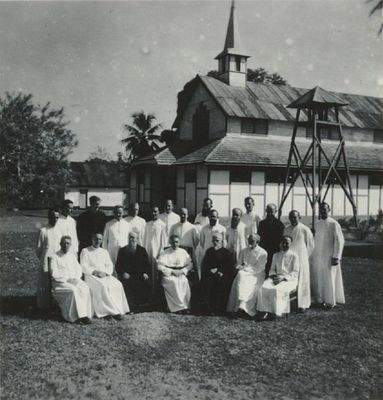 In 1937 the first missionaries of the Order of Franciscan Friars Minor arrived in New Guinea. They started work in the region that fell under the responsibility of the Sacred Heart, MSC ( Missionarii Sacratissimi Cordis, Netherlands). Their centre was in Merauke along the south coast. However, the missionaries also started work in the Bird's Head Area along the north coast. Before World War II, the missionaries went into areas that had already been visited on previous occasions, such as Steenkool, Sorong. Manokwari and Jayapura, as well as other areas further along the coast. After the war, they branched out into new areas in the hinterland of New Guinea.
To mark the departure of the last Dutch Franciscans from Papua, Nico Boink made a documentary called 'De mannen van Münninghoff'.

 
Content
1.The Order of Franciscan Friars Minor
2.Mission work in New Guinea
3.Indonesian missionaries and local priests
4.Defending human rights
5.Prevention of HIV-AIDS
6.Links
7.Sources
1.The Order of  Franciscan Friars Minor

The Franciscans are followers of Francis of Assisi (1182-1226). Francis and his followers had as ideal to be the Brothers of the poor and they called themselves 'the lesser brothers' , who aspired to live a life without worldly possession and care for the poor, hence the name 'Order of the Friars Minor'. This order first settled in the Netherlands in 1228. The Reformation caused them to be expelled from the provinces of Holland and Zeeland to areas further south which today form part of the  Netherlands.
In 1853, an independent Dutch province was created  which was managed by the Order of Franciscan Friars Minor. The mendicant order of friars started to grow and took on more and more responsibilities. The Franciscans worked in catholic parishes and taught at secondary schools set up by the Order. They provided pastoral care in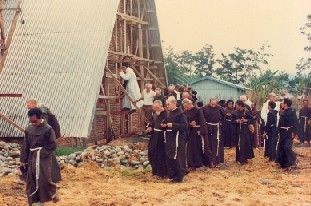 regions with relatively few Catholics. Dutch Franciscans went to work as missionaries in countries such as China, Brazil, the British Indian Empire (currently India and Pakistan), Japan, Indonesia and New Guinea. Following in the footsteps of their founder, the Franciscans chose to be on the side of the vulnerable and the disadvantaged within society. They stand up for justice, peace and honouring God's creation.
From the 1960's onwards, the number of individuals entering the order reduced enormously. Currently the Franciscan Order in the Netherlands has about 200 brothers and about 40 or more missionaries are still working abroad.
2.Mission work in New Guinea
The Order of Franciscan Friars Minor played an important role in exploring previously unknown territory in New Guinea. " From Mimika (which had been handed over to the Order in 1953), the Asmat people and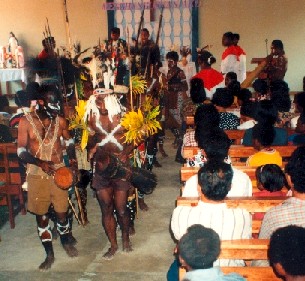 later the tribes along the Kassuarinen Coast were reached. For years, opening up this area was a difficult task" (from Jan Boelaars,1995).
Besides religious teaching, the missionaries worked in healthcare, education and did research into languages and customs of the different tribes. They respected local traditions and customs. Bishop Emeritus, Herman Münninghoff, former bishop of Jayapura, made the following statement about mission work:                                                    
" The work of a missionary consists maybe for 15%- I don't exactly know, never having worked this out- of religion and the church. But the rest is all about medical issues, health care and cultural matters, for which they have not been trained. I think this is the most important. The development of these people should be given priority in mission work."
Journalist and writer Dirk Vlasblom, author of the voluminous publication 'Papoea, een geschiedenis' (Papua, a history) makes the following comment about Catholic missions:                                          
"The strength of the Catholic mission in the last hundred years has been the attention to, sensitivity and respect for the local culture. In this respect, the Catholic Mission is quite different from the American Evangelical Mission Societies, who regarded traditional rituals, artefacts and festivals as the work of the devil and who put considerable effort into abolishing all of these traditions."
3.Indonesian missionaries and local priests
Since the beginning of the 1970's, the elderly missionaries, born in the Netherlands, were slowly being replaced by Indonesian friars. About this Vlasblom says the following "They have without doubt the same level of motivation, but they have far less interest in  local culture than their Dutch predecessors. This 'Indonesianisation' of the Catholic Church in Papua is in some ways a threat to Papua Culture."
The Papua priest, Thomas Makai, ordained in 1980, made the following observation:
" We have become Christians, not through our parents but because of the missionaries. We are the first generation of Christians. I needed to give my life in service of Papuan well-being. That is the meaning of devotion. I have never regretted my ordination."
4.Defending human rights
Freeport started mining from Mimika in the Carstensz Mountains in 1969, after New Guinea became a province of Indonesia. It is one of the most lucrative gold and copper mines in the world and it had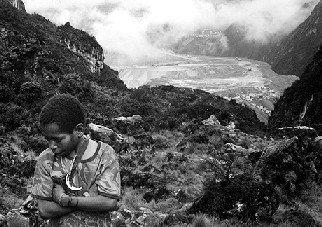 considerable impact on the lifestyle of the Papuan population in the vicinity.
Since 1997 Freeport has been giving 1% of its profit to the Papua tribes which live in the surrounding area of the mines. Bishop Saklil of the diocese of Timika had the following to say about this: "This one percent system is like throwing a pig's bone to the dogs, which [which or who?] then start to fight."
The Franciscan Friar,Theo van den Broek, set up a Secretariat for Justice and Peace in 1995. This organisation focuses attention on bringing the abominable situation of Papuans to the fore in the international arena. It also organises Human Rights Courses in remote areas of Papua. Journalist Dirk Vlasblom visited such a course at a meeting of the Ngalum in the Star Mountain Area. After this visit he wrote about this in a major Dutch newspaper (NRC Handelblad):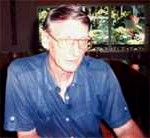 "The Franciscan (van den Broek) highlights the similarities and differences between the human rights of the individual and the adat (customary rights) of the Ngalum."
Quoting van den Broek, Vlasblom continues:"The latter (the adat) ensured a harmonious society before your world opened up in 1960. The adat is still important, but will not provide all the answers because of the different rules which apply in your contact with others in a new world that is much larger than before."
Examples of Human Rights, 'the new adat' provided by van den Broek at this meeting were: " The right to education for your children, the right not to be bothered by the army or the police, but also equal rights for men and women."



5. Working to prevent HIV-AIDS
AIDS is an ever increasing problem in Papua. The number of AIDS patients has risen to such an extent,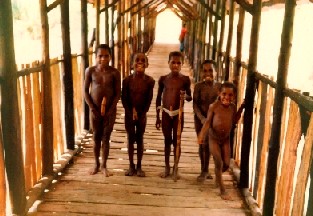 that this area now has the highest percentage of HIV-infected people in Indonesia. In Timika, the Franciscan Friar, Bert Hagendoorn, worked  to improve the lives of people with HIV-AIDS. In 2002 he set up the Yayasan Pedulu AIDS Timika Foundation (Timika Concerned about AIDS Foundation). This Foundation provides support to people who have HIV-AIDS or who have to deal with this in their own family. Hagendoorn supports HIV-infected individuals and their families, provides information to the community and hands out condoms. Hagendoorn's observation below highlights the  importance of sexual education and the use of condoms: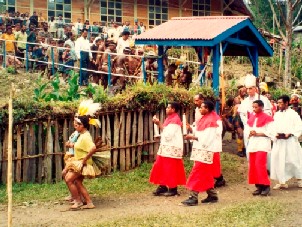 " The people of Mimika along the coast still have initiation rites when boys are ready to become adult men. One of the components is sexual education, not just in theory but also in practice. So in one night you'll get 10 to 20 boys who undergo sexual instruction with one particular woman. This means that if one of them carries the virus, the whole group will go home infected with the virus."
Hagendoorn mentioned that there were no signs of interest at all from the diocese for the anti-AIDS project. " And that is a real tragedy, because we know that two thirds of all parishioners today, will not be alive in five years time."
6.Links
- Nico Boink interviewed by Rachèl Nieuwstede about his 2007 documentary on the Franciscan Friars in New Guinea
-The AIDS-probleem in Papua (07-11-2008, Al Jazeerah TV)
-  Papua's Aids crisis on YouTube (6 Nov 2008): part 1 and part 2 

7.Sources

 
Nico Boink, De mannen van Münninghoff, documentary on Franciscan Friars Minor in New Guinea (on dvd) , 2007
- Websites: on Franciscanen Friars Minor
- Boelaars, Jan H. M. C.,  Met de Papoea's samen op weg. (De pioniers - Het begin van een missie), published by J.H.Kok , Kampen,1995
- Peter Jan Margry, The archival heritage of Dutch Franciscans in Irian Jaya, from Oceania News Letter, 15 March 1995, http://cps.ruhosting.nl/15/nb15e.html
- "Pure moord op lange termijn," Friar Bert Hagendoorn's fight against AIDS in Timika, West Papua Courier, 7August 2003          www.westpapua.nl//2004_01/moord.html                   
- Dirk Vlasblom, Reformasi verbreekt bange stilte van de Ngalum, NRC Handelsblad,  21 September 2000